The SUBBUTEO technical page
---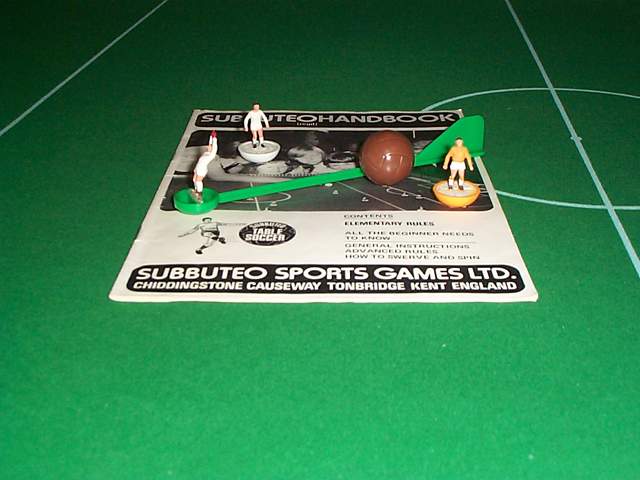 The "old" Subbuteo booklet, the diving goal-keeper, the "giant" ball, the Heavy Weight base and the Light Weight base. Now that's retro! Too bad it's not a baize pitch.
Retro play means playing with the old subbuteo-made bases (HWs or LWs, and the newer replica bases) using the Subbuteo Advanced Rules (courtesy of the Independent Subbuteo forum). The old style bases (along with a baize pitch if possible) allow for curling due to the height of the rise. The advanced rules were included in Subbuteo sets back in the day. An easy way to get the advanced rules is to download the Subbuteo handbook circa 1975 right here: Subbuteo handbook. This little marvel talks about elementary rules, advanced rules, how to swerve and spin, organising a league, making your own playing board and much more. It is so retro!
The main differences with the FISTF rules are listed below:
Stricter repositioning for goal-kicks.
The figure taking a throw-in is not allowed to cross the touch line.
Automatic on-side flick for the figure that took a throw-in or a corner if in offside position. No block flick for the defending side.
No due blocking flick for defending side right after a throw-in.
Blocking fouls result in backs. No free-kicks can be called when blocking.
If a foul (flicked figure hits a player before the ball) is committed inside the shooting area, it is a direct free-kick. Possibility of setting-up a (four player) wall instead of marking.
Two positional flicks for a free-kick.
Stricter on-side flicking. Maximum of two on-side flicks per possession.
The goal-keeper should not be raised (from the playing surface) before the ball is hit by the attacker. No more than 45 degrees tilt allowed.
The spare goal-keeper can always be removed after a goal-kick (even if possession is lost).
A block can be performed as soon as the attacking figure is flicked (no need to wait for the attacking figure to touch the ball as in FISTF rule). Thanks to Bruno Biasini for pointing that out!
There seems to be some controversy in the Subbuteo world about what Subbuteo playing actually is. Is it what is called Table Soccer (pro bases and FISTF rules) or is it retro playing ("old" equipment and advanced rules)? In my opinion, it is all the same. Just variations around the same basic game that has always involved a pitch, a plastic ball and plastic figures. Anyways, even the people using the advanced rules are not that retro because they are not required to use the "diving" goal-keeper and they are allowed to polish their bases. So lots of discussion for not much, really. If you like to discuss rules and such, feel free to join the forum attached to this site and share your opinions.
---