---
Not sure what is gonna end up in this section. Whatever does not fit anywhere else and is kinda fun. Yeah, that's it! If you own the copyright for any of the material given here, let me know and removal will follow.
SUBBUTEO: PC style
Subbuteo is a solid PC version of the popular miniature soccer game in the UK that most kids grow up with. Similar to Foosball in the US but much more akin to the actual game, Subbuteo the tabletop game is still widely popular and sold by Hasbro UK. This computerized version by Goliath Games does come very close to the real thing, except that, perhaps not surprisingly, the game is slower and more tactical than the real thing. One of the game's best features is the excellent user interface. To kick the ball, you first select the player you want, rotate an arrow to choose which direction to kick (or "flick" in Subbuteo parlance), then hold the fire button down while the strength of flick bar goes up. When you release the fire button a second "swerve" bar goes up. Press fire in the middle of this bar for a straight flick. You get more swerve on the ball the further away from the middle you press. These selections are done "real time", so timing and reflexes are crucial. The computer player is very good at swerve, and his defensive flicks are very accurate. You can consult comprehensive Subbuteo rules at any time during the game, and the game even offers the relevant section of the rulebook automatically whenever you make a mistake. Overall, Subbuteo is an excellent computerized version of a unique tabletop soccer game that is well worth a look, whether or not you have played the original before. Highly recommended!
That game also exists for the C64 and ZX Spectrum platforms but it is two-dimensional view from above, not full three-dimensional like here. So don't be fooled by lesser versions!
Download right here! subbuteo pc game (right click and save as). This game is believed to be abandonware but in case it is not, let me know and the link will be removed immediately.
A few things about that game ... There is no such thing as the spare goalkeeper. You have 30 seconds to make an attacking flick, and if you time out, you get a free-kick against you. Otherwise it's a pretty good game for the money!
Dukla Prague Away Kit
If you have heard those 4 words uttered at a Subbuteo cocktail party following a tournament, it is probably a reference to a song by Half Man Half Biscuit (strange name, eh!), the legendary 80's band. It is an anthem for both the Subbuteo and Scalextric fan. By the way, there is another song by the Undertones that is of interest to Subbuteo fans: it's called "My perfect cousin" but it does not compare to the HMHB tune.
Download right here! Dukla Prague away kit (right click and save as and then unzip). If you like the song, please go buy it somewhere if you can find it (that's from the "Back to DHSS" album). The song is copyrighted so if the copyright holder wants this link removed, it will be done so immediately.
Here are the lyrics (provided courtesy of phespirit ... well I didn't really ask):
There was one in the gang who had Scalextric
And because of that he thought he was better than you
Everyday after school you would go round there to play it
Hoping to compete for some kind of championship
But it always took about fifteen billion hours to set the track up
And even when you did the thing never seemed to work

It was a dodgy transformer again and again
A dodgy transformer again and again
It was a dodgy transformer again and again
A dodgy transformer that cost three pound ten

So he'd send his doting mother up the stairs with the stepladders
To get the Subbuteo out of the loft
He had all the accessories required for that big match atmosphere
The crowd and the dugout and the floodlights too
You'd always get palmed off with a headless centre forward
And a goalkeeper with no arms and a face like his

And he'd managed to get hold of a Dukla Prague away kit
'cause his uncle owned a sports shop and he'd kept it to one side
And after only five minutes you'd be down to ten men
'cause he'd sent off your right back for taking the base from under his left winger
And come to half time you were losing four-nil
Each and every goal a hotly disputed penalty
So you'd smash up the floodlights and the match was abandoned
And the dog would bark and you'd be banned from his house
And your travelling army of synthetic supporters
Would be taken away from you and thrown in the bin

Now he's working in a job with a future
He hands me my giro every two weeks
And me I'm on the lookout for a proper transformer .....

The funny thing is that there is no such thing as a Subbuteo Dukla Prague away kit. It was never produced (meh thinks). And I don't think the home kit existed either. So it is kinda weird. One may ask how the kit looks like in real life, so here is the Dukla Prague kit (away and home) in all its (grayscale) yellow and claret splendor.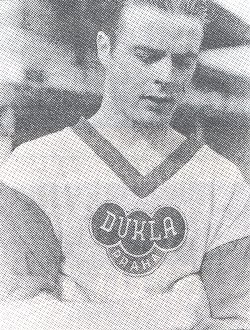 Dukla Prague away kit as worn by Masopust (I think that's him).
Dukla Prague team in 1962 wearing the home kit.
Flick to kick
An Illustrated History of Subbuteo, by Daniel Tatarsky. Subbuteo Table Soccer, the 'replica of Association Football', grew out of the 1920's game 'New Footy'. Developed by Peter Adolph in 1947 (chalk pitches were drawn out on old Army blankets), the heyday of the game was in the 1960s and 1970s when more than 300,000 miniature teams were sold each year. By 1980 Subbuteo Rugby Sevens, Cricket and Hockey 'for girls' were in existence, and Peter Adolph was convinced he could more or less 'Subbuteoize' almost any aspect of real life: hence replica Subbuteo models of the Beatles came to pass and Subbuteo Moon Landings were investigated. The comparative failures of Subbuteo 'Snooker Express' and Subbuteo Angling to take off in the eighties, the increased involvement of black players in the (real) game and the rapid changing of club strips all posed individual problems for the manufacturers, and, despite heroic attempts to keep up with the changing game, Waddington's sold Subbuteo to the American toy giant Hasbro in the mid-nineties. Fans feared this was the end and in 2000 Hasbro duly caused national outrage by annnouncing plans to cease production.Retrospectively (a la Heinz Salad Cream) this has been viewed as a cynical attempt to boost flagging sales and secure some free advertising space. Today, over 300,000 games are sold worldwide, 70,000 of those in the UK. The book will be illustrated (approx 150 photographs) in full colour, and will feature approximately 30,000 words.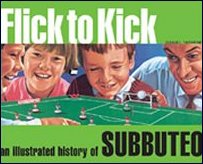 This book has been out for a long while and is cheap as chips. Easy to find (ebay comes to mind). Highly recommended!
Growing up with Subbuteo
My Dad Invented the World's Greatest Football Game, by Mark Adolph. Mark Adolph was the envy of his schoolmates - he never had any problem getting rare Subbuteo teams because his Dad invented the game and owned the factory that made it. Mark tells the story of Subbuteo from the very early days when his father Peter had thousands of orders but no games with which to supply them. He recounts his father's adventures in football as a director of Tonbridge FC and supporter of Queens Park Rangers, as an avid collector of luxury cars and as "a bit of a rogue". Did you know why the game is called 'Subbuteo'? It's because Peter Adolph wanted to call it 'The Hobby' but was persuaded this was not specific enough. Peter was an ornithologist and Falco Subbueto Subbueto is the Latin name for the bird of prey The Hobby Hawk. Peter began his adventure with an advertisement in "Boys Own" magazine in 1947 offering a new table top football game for 7/6d (37.5p in new money). At that time the idea was just that, an idea, and Peter went off to New York to value a birds' egg collection. Once there, he got a telegram from his mother asking what she should do with GBP 7,500 worth of 7/6d postal orders, worth about GBP 750,000 in present terms. Then began the frantic process of making the game and suggesting it should be played on a pitch made from an old Army blanket!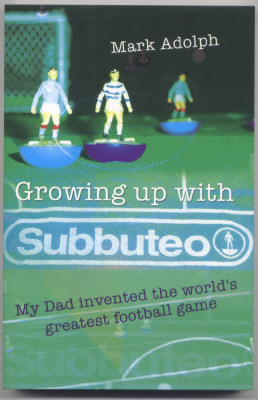 Yes, you guessed it, it's a book written by Mark Adolph, Peter Adolph's son. It's available since October 2006 at the finest book outlets (just google for it) for GBP 7.99 (suggested retail price). Highly recommended!
---